Subscribe to RSS Feed
Keyboard Man Lonnie Jordan
Founder Member of WAR
Revisits his Back Catalogue on his New Solo Outing
Lonnie Jordan is in high spirits when he talks about his new Fantasy collection, War Stories. It's not a comeback, its a flashback, Jordan says laughing. It's all live, no sequencing, no tricks, nothing but real musicians playing real music. I did a few keyboard overdubs, but that was done live to tape too; they turned on the machine and let me play, just like the olden days. Just like Eric Burdon taught me. This music doesn't have anything to do with thinking. I just play and feel and have a good time.
War Stories details the amazing journey that took Jordan and War, the band he helped create, from the ghettos of LA to stages and concert halls all around the world. I've been thinking about writing a book, based on my experiences in the 60s and into the 70s, musically and personally. Thinking about that got me thinking about the music, so this is the first chapter of my musical autobiography, the soundtrack to my life story.
To capture the live vibe he treasures, Jordan enlisted the aid of two young producers, guitarist JB Eckl who worked with Santana on Shaman and bass player Pancho Tomaselli, a current member of War. The duo put together a tight sextet Tomaselli; Eckl; drummer Paul Gonzalez; Pablo Calogero on horns; Mitch Kashmar on harmonica and percussionist Dan Tai. The same group will be touring with Jordon to support War Stories.
We took the band into the studio for three days of rehearsals, nine or ten hours a day. We ate and talked and jammed and road tested the tunes in a concentrated amount of time to get that band vibe going. There's a lot of Africa and Latin America in the music, and a lot of percussion that takes the music back to its roots in the Motherland. War dipped into rock, jazz, blues, Latin and R&B and we always liked to change up the arrangements, so we revisited a lot of War tunes to bring in some different flavors.
Don't Let No One Get You Down is slower than the original, highlighted by Eckl's pensive guitar and Jordan's dreamy Fender Rhodes. Jordan's aching vocal ups the songs romantic quotient. Jordan made Me and Baby Brother more moody and bluesy, with expansive, cinematic keyboard parts played on both Wurlitzer electric piano and Hammond B-3. Jordan's soulful wailing background vocals add extra drama to the track. The World Is A Ghetto is, sad to say, just as relevant today as it was when it was written. The arrangement blends Latin, jazz and Indian music, all built on the propulsive rhythms laid down by drummer Paul Gonzalez and percussionist Davey Chegwidden, augmented by the tribal vocals of Jordan, Eckl and Tomaselli. Get Down is faster than the War version, with a percussion arrangement that blends the rhythms of Africa, Cuba and Columbia's cumbia. Jordan's exuberant vocal compliments the song's ironic message. The police laugh as they bust us, so ya better get down, Jordan says.
Jordan's Cuban piano licks give The Stones Paint It Black a slinky, sultry vibe. The Stones used an Indian scale for the melody, Jordan says. I added my own Latin twist to it. JB Eckl Out Of Sight is a jazzy, mid tempo blues. Jordan's rippling Rhodes solo is played in the style of Bill Evans, while his B-3 and background vocals give the tune a sanctified feel.
Third Stone From The Sun is the Jimi Hendrix classic, given a funky, sci-fi treatment by combining Jordan's piano with the Melotron and Moog of Sebastian Arocha Morton. I jammed with Jimi on the last night of his life, Jordan recalls. I wanted something cosmic to mirror Jimi's soul. We slowed it down to give it a sense of energy coming from the sun – and returning to it. The album closes with Teresa, a love song Jordan wrote for his wife, with an elegant melody and some of the album's most passionate singing.
The multi-layered arrangements of War Stories are just as eclectic as you'd expect coming from a man whose music has always confounded expectations. War Stories is as startling and inspired as anything Jordan's ever cut in his long and varied career.
Everyone knows Jordan for the role he played in War, but he had a life before Eric Burdon and Jerry Goldstein took the band to the top of the charts. Lonnie Jordan was born on November 21, 1948 in San Diego, California, but his family moved to Compton soon afterwards. "I have three brothers,  Jordan recalls. My oldest brother Ray used to play with Vernon Garrett and R&B oldies groups. As teenagers, we pretended we had a vocal group and did songs by Little Anthony and The Imperials and Stevie Wonder. I was the youngest, so I was the lead singer with my brothers as background singers. We had lots of girl cousins and they were our audience – and our hecklers.
I started pounding on the piano when I was about six,  Jordan says. I could play by ear and took some lessons from a church lady who played for the congregation. After a couple of months I played an arpeggio like I'd heard her do on Sundays. She smacked my hand and I ran out of there and never went back. I mostly taught myself, but before she hit me, I did a recital of  Londonderry Air (Oh Danny Boy). I made one mistake and started shaking. That caused me to have terrible stage fright, which I didnt get over until my late 40s. I still have that moment of fear before I strike the first note, but once I hit it Im cool.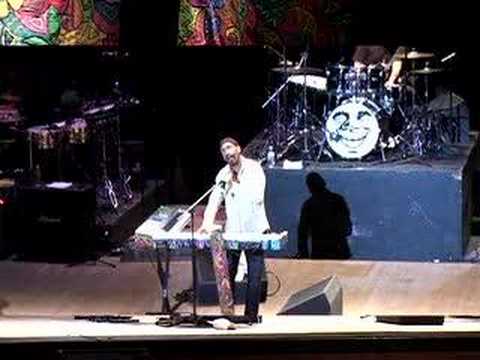 Jordan delved into Ray Charles, Jimmy Smith, Erroll Garner, Bill Evans (before and after Miles), Earl Grant and Billy Preston. He loved Latin music and picked up vibes after listening to Cal Tjader. "I was in bands all through high school and got into trouble with girls, but I was more into music than girls. I was afraid to fall in love, cause that would take away time from playing music.
I felt like a professional, even before high school. I met Howard Scott in Compton. His piano player was in and out of jail, so he hired me and the band became The Creators. I had to get permits to play in clubs cause I was too young. We played R&B – Wilson Pickett, James Brown, Johnny Taylor and lot of ghetto blues, Memphis Slim, Lowell Fulsome, guys like that. We also dug pop and country – Patsy Cline, Elvis, The Everly Brothers. We played in country clubs backing up country singers and played Latin, Jazz and Gospel gigs. We finally started creating our own style. Since we all liked everything, we decided to be multi-cultural in our music.
In 1968, the band was backing up Deacon Jones, a pro football player trying to launch a singing career. Meanwhile, Eric Burdon was looking for a backing band. "Eric and Lee Oskar sat in with us one night. It sounded so good, (his producer) Jerry Goldstein took us into the studio to cut some stuff. Those tracks never came out, but Eric Burdon hired them for a tour of Japan and the five-day Northridge Festival. One night we were walking down an alley, all of us in our fatigues and boots and big Afros. Our manager said:  You look like you just came off a battlefield  like you're ready to fight a war.  Someone suggested War as a band name and it sounded too radical. Then we thought we'd wage war with melody, rhythm and harmony as our weapons and the songs as our ammunition. We spoke out against racism, hunger, gangs and crime and fused rock, jazz, Latin and R&B, as well as being one of the first integrated bands in the business.
And the rest, as they say, is history and  still doing our thing and bringing multi-cultural audiences to our concerts, all ages, all races. Fans of hip hop, alt.rock, Latin music, jazz. We go out with everyone from Steve Miller to Ice Cube and still do low rider shows.
More on Lonnie Jordan's War Stories
Tags: Funk, lonnie jordan, Reviews, soul